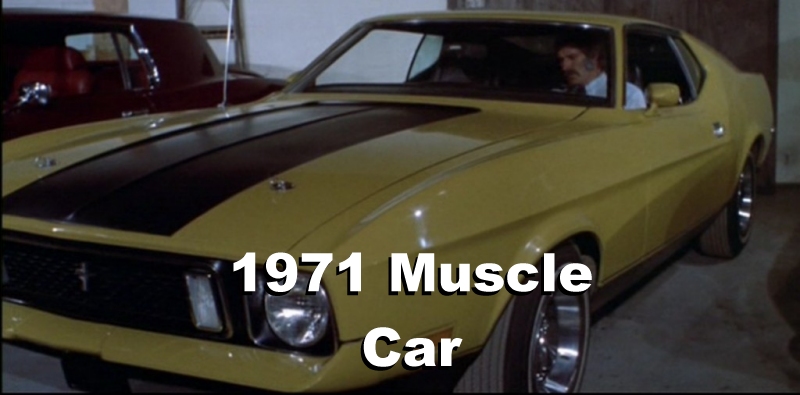 The 1971-73 Ford Mustang was a great job by Ford's designers to make their best selling pony car look much bigger, to give owners more sheetmetal for their money.  It looked so good in red that James Bond chose one to outrun the police in Las Vegas, and when painted pale yellow it would be featured in perhaps the longest car chase ever filmed.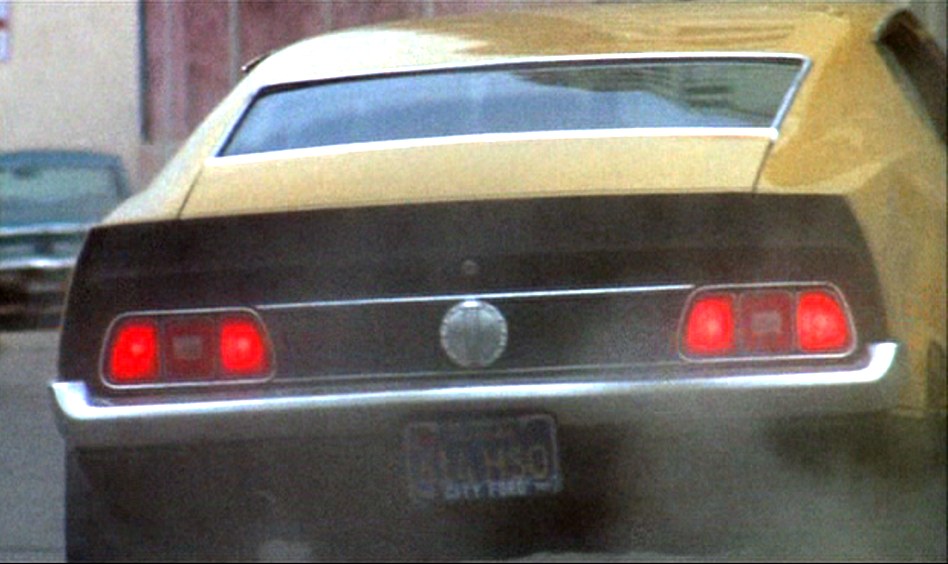 The 1:32 resin bodyshell is cast from a 2 part mould with body mounts already fitted, and the windows are much thinner and easier to cut out than with my older bodyshells.
In the kit you get
Resin bodyshell
Vacform windows
Vacform interior
Resin driver's head
Resin wheel centres
Bodyshell preparation is here, detail follows below.
I wanted a yellow car so chose yellow primer, sometimes life smiles on you that way.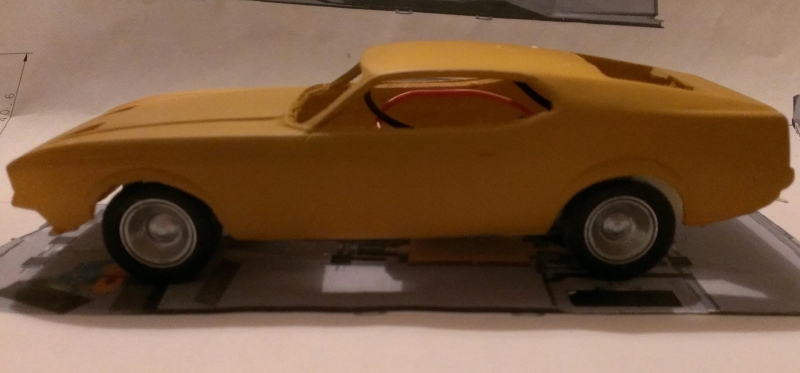 While waiting for the primer to dry I painted the resin wheel inserts silver and adjusted the chassis to fit.  I use 600 grit wet & dry paper after the primer coat, then start with the yellow top coats making sure each coat is fully dry before sanding again.  600 grit between top coats, and usually 3 coats is enough.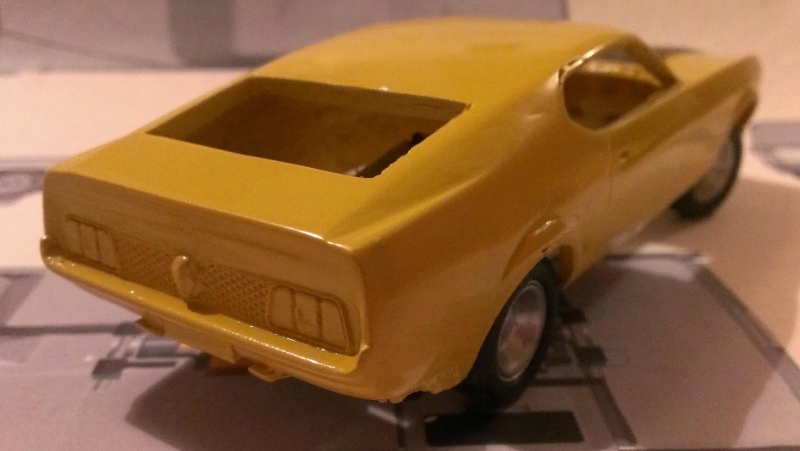 I then masked off everything except the front end and sprayed matt black over the hood and radiator grille.
I then masked off everything except the lower section and painted that matt black too.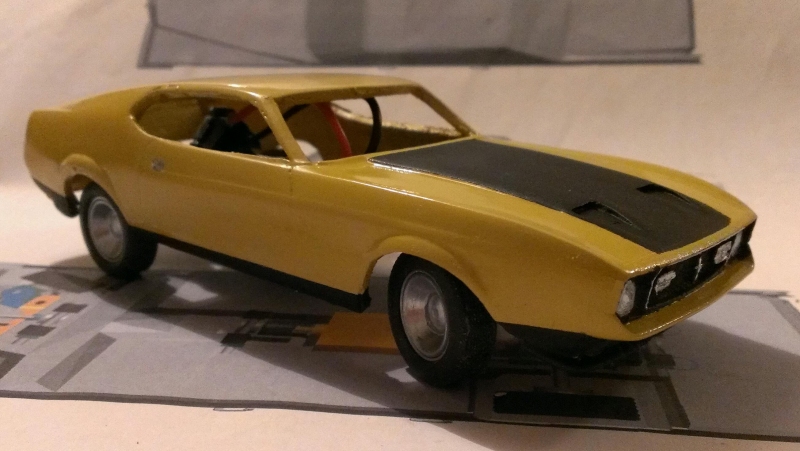 I picked out the details in the front with a silver paint pen, and did the same at the rear.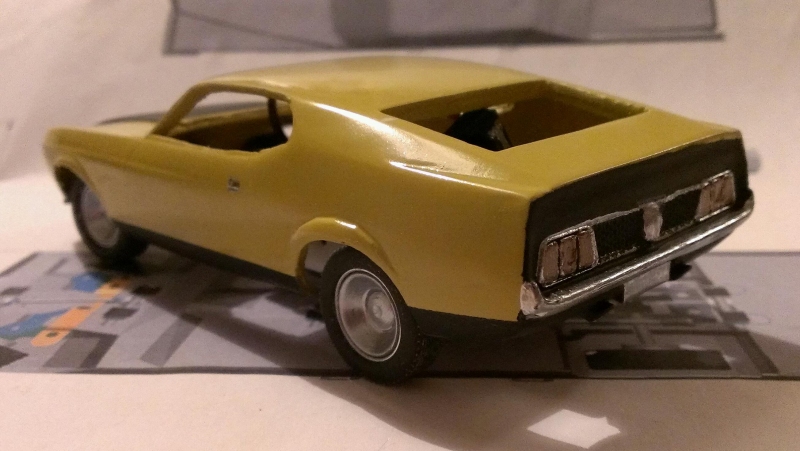 The windows were cut out with a small scissors and glued in with Canopy adhesive.  I cut out the interior (leave it long at the back to go under the huge rear window!) and painted it black
I then detailed the driver, and the driver's head.  It needed some sanding on top of the head to clear inside the roof, but once it's fitted you can't tell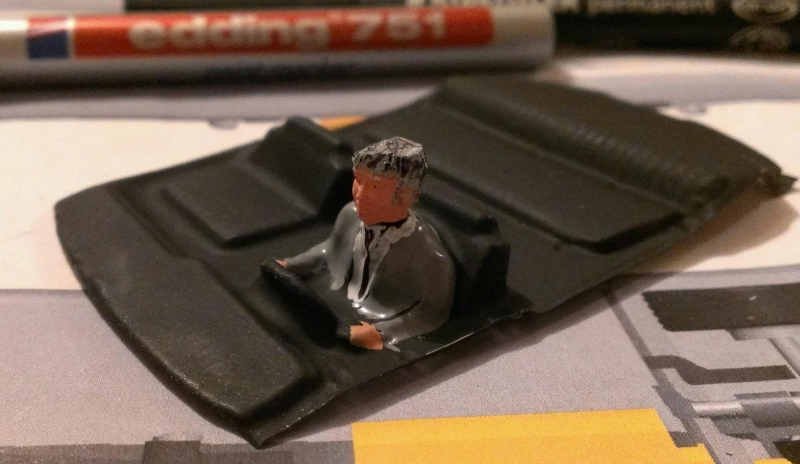 The interior is glued in place with the same Canopy adhesive, and it's ready for the track!