Adapting an old bodyshell
Adapting another bodyshell
If you browse internet auction sites, there are a huge number of slot cars that shouldn't corner like a kart.  Now you can adapt one to fit my chassis and keep the donor car's wheels.
To get an idea of measurements, click the link 012-604_assy.  Remember that it's easier to fit a wider rear axle and choose a wider front axle too, but this is as narrow as you can comfortably go.
Here's a perfect donor.  Scroll down for a very different one.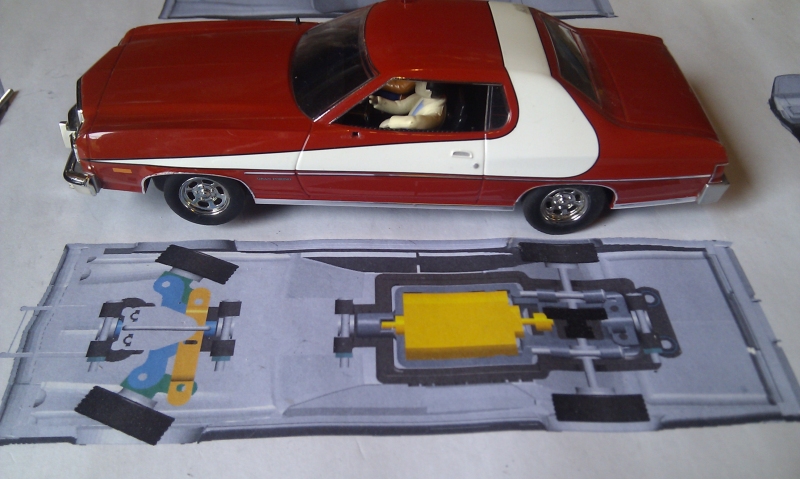 The wheelbase is about the same as the '77 Dodge Monaco so the chassis length is easy, the track width is much more than the other cars, in fact it's the same as the 1981 Van so we'll use the same spacers on the front axle.
The chassis shown is the older 012-601 but it's the same for the current 012-604.  Follow the instructions from that page.
First build up the rear chassis with a longer rear axle.  Those slot mags look great already!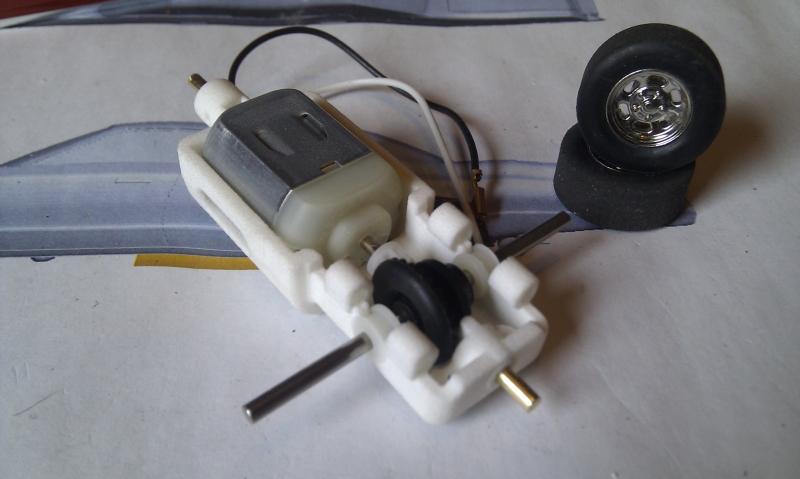 Check the fit into the bodyshell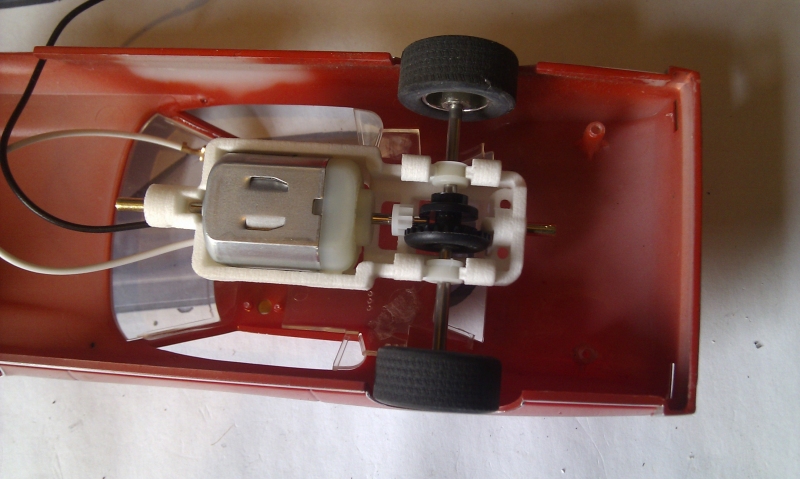 Build up the rest of the rear chassis as usual.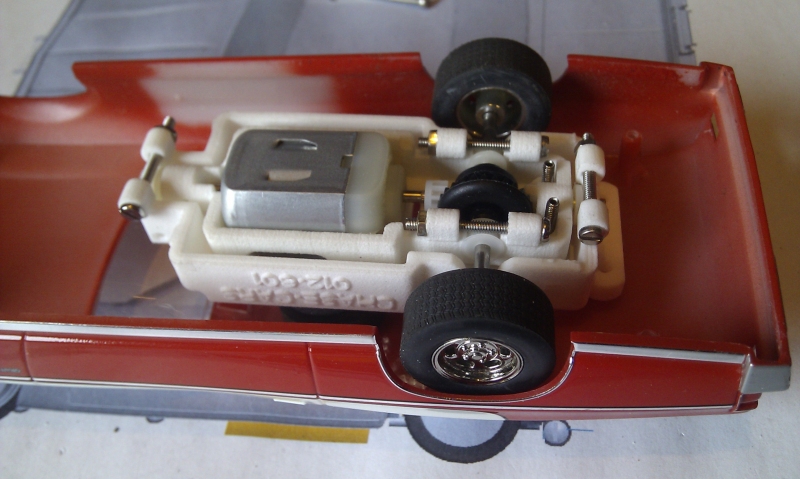 Build up the front axle as normal.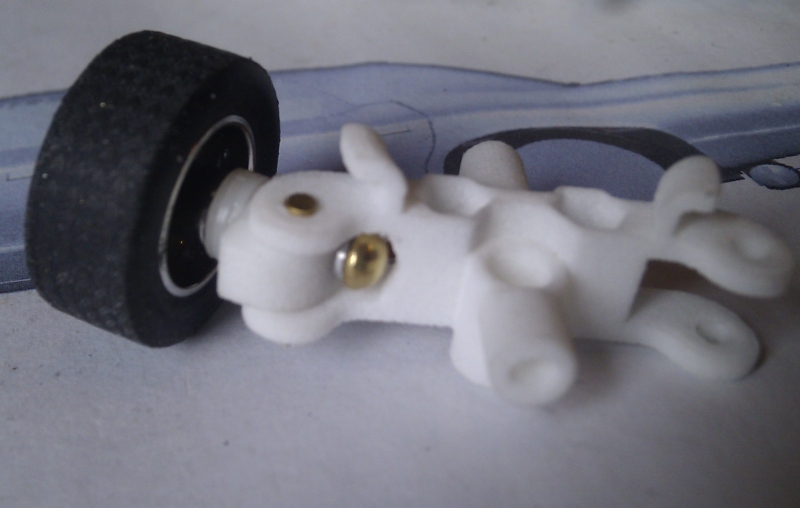 Glue the wheels in place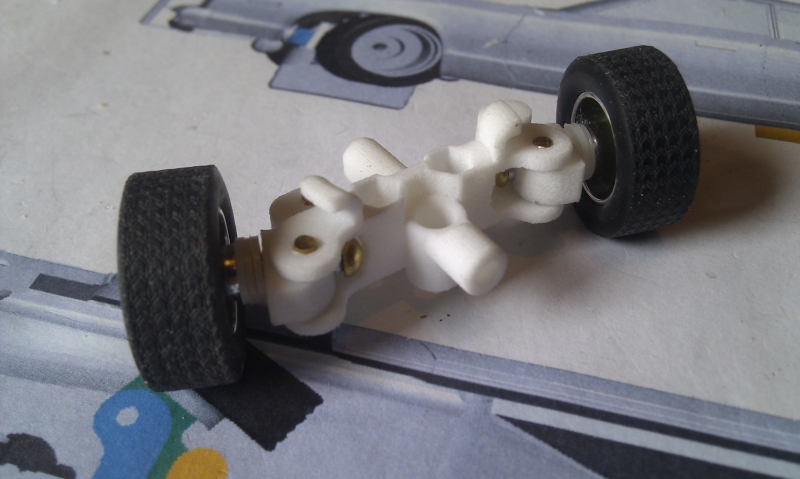 Then build up the rest of the chassis.  I wanted to keep the interior and lights but of course there's not enough room for the full interior tray so it had to be cut down a little…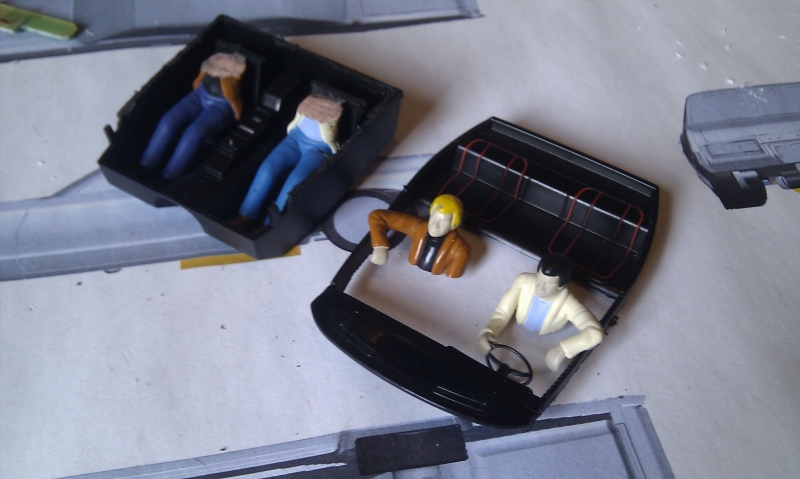 The interior is clipped in place (and held in with tape later) and the resin bodyshell posts are glued in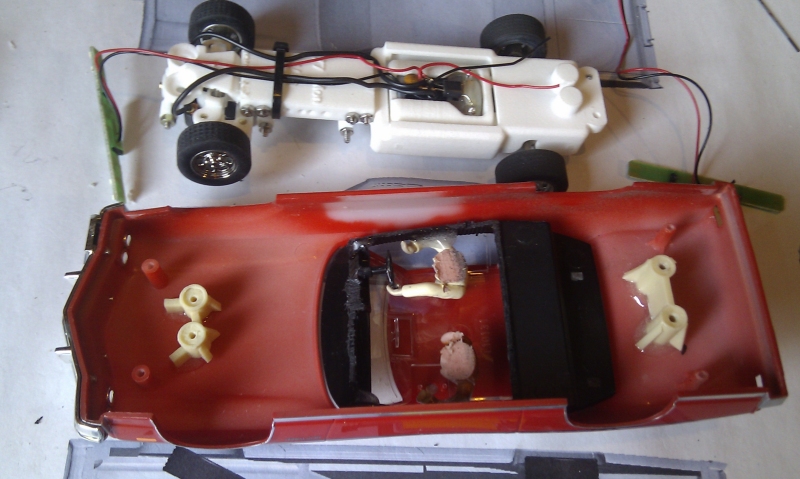 I cut up the front and rear sections of the original chassis because they hold the light units in place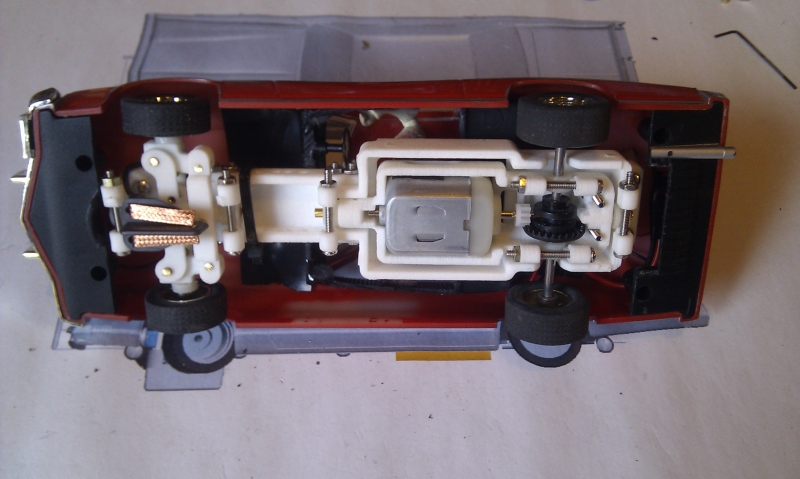 And now Zebra 3 is ready to go!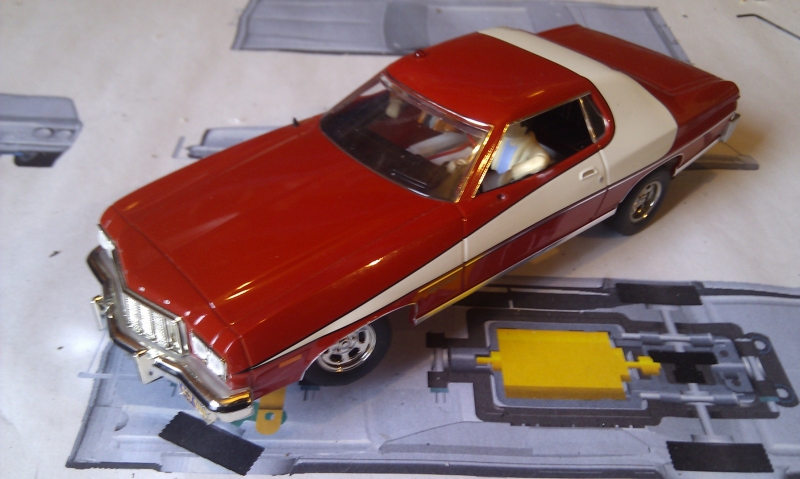 Photo below shows it in action, from this video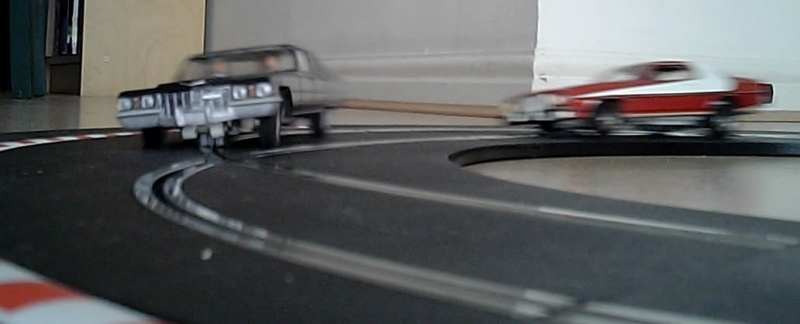 Using the 012-604 chassis with narrow front axle, I converted this wonderful Citroen 2CV made by Ricky Britfix.
I used a Dremel to cut away the resin inside so there was enough clearance for the tyres as the suspension and steering work.  I added body posts at the front, the rear screw goes into the rear bumper.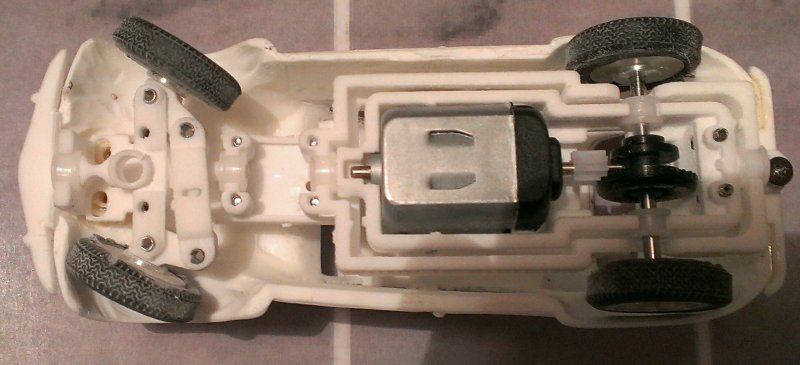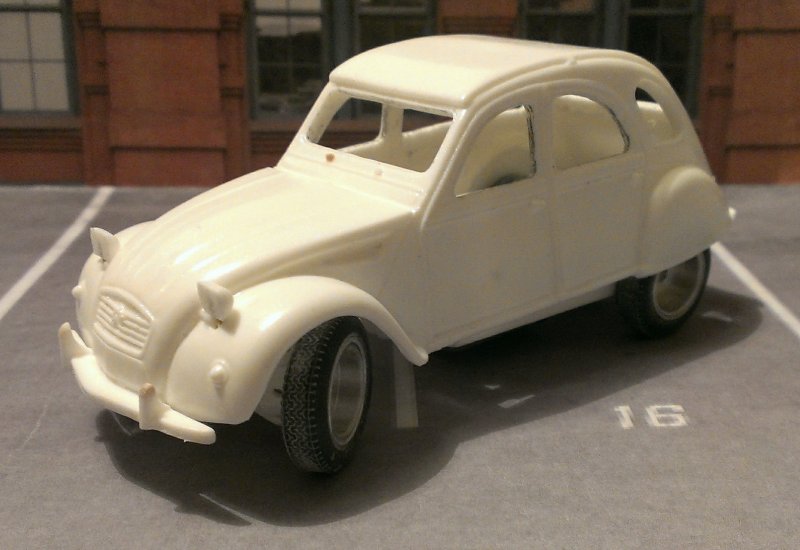 I built up the bodyshell as usual and painted the chassis black as it would be visible below the body.  I needed to add weight at the front, even with a very short wheelbase there's always space!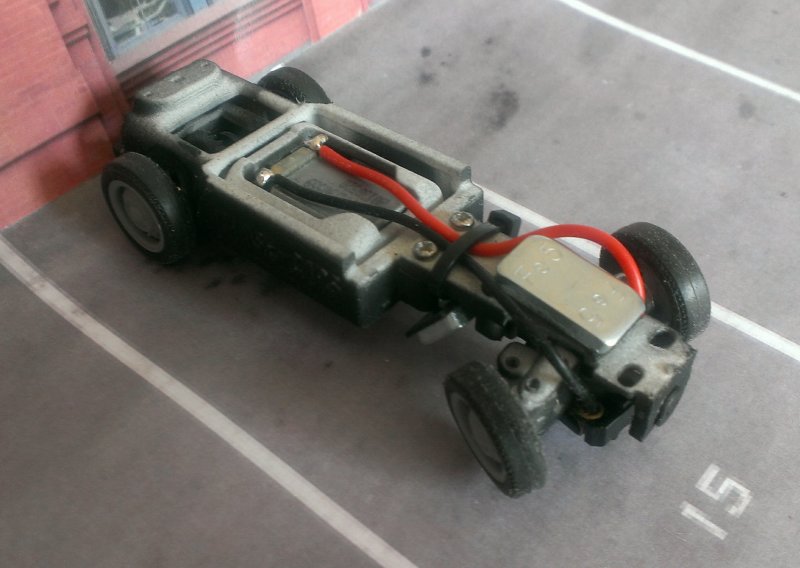 You'll also notice I changed the tyres, the treaded ones looked good but weren't very round, I used Ortmann 37M from RS Slot Racing which work perfectly.  The wheels with no rear hub also came from RS Slot Racing, they are the RSW001.
I tried adding more weight below, but this made the tail slide too much, not right for a 2CV, so I ended up removing it.
The reason for doing a 2CV is pictured below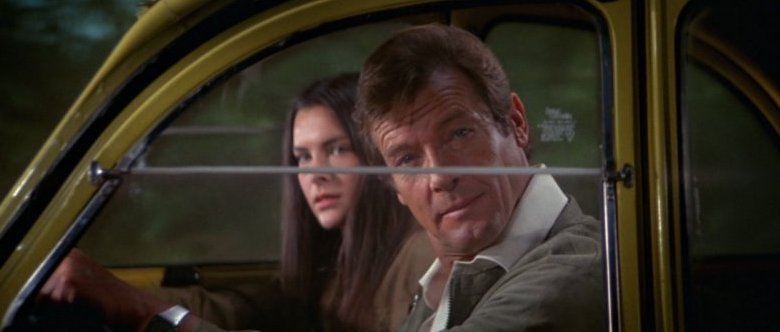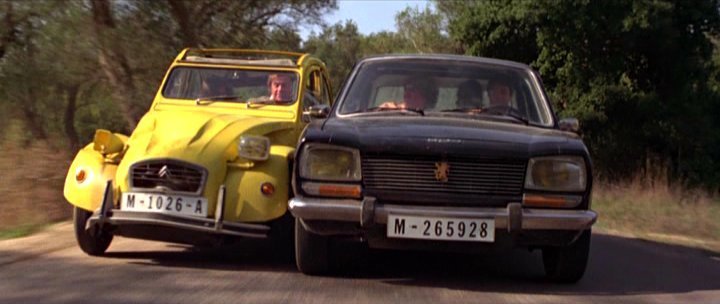 And here's how the cars look together.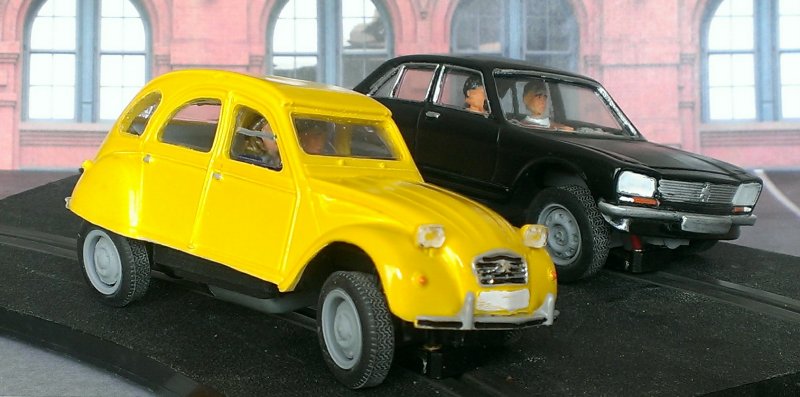 Bullet holes too!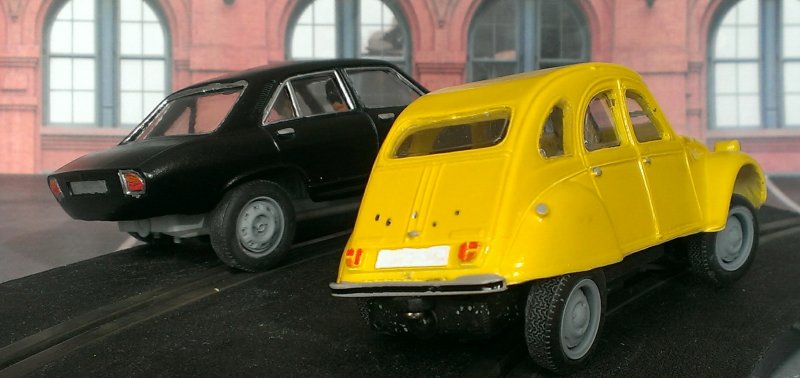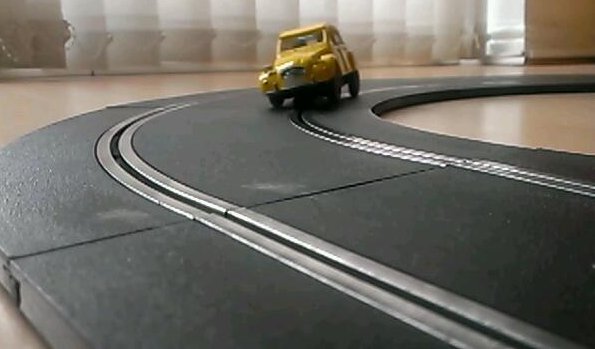 There are some great 1:32 scale model kits crying out for conversion to a slot car, here are a Ford Thunderbird and Cadillac which look perfect on this chassis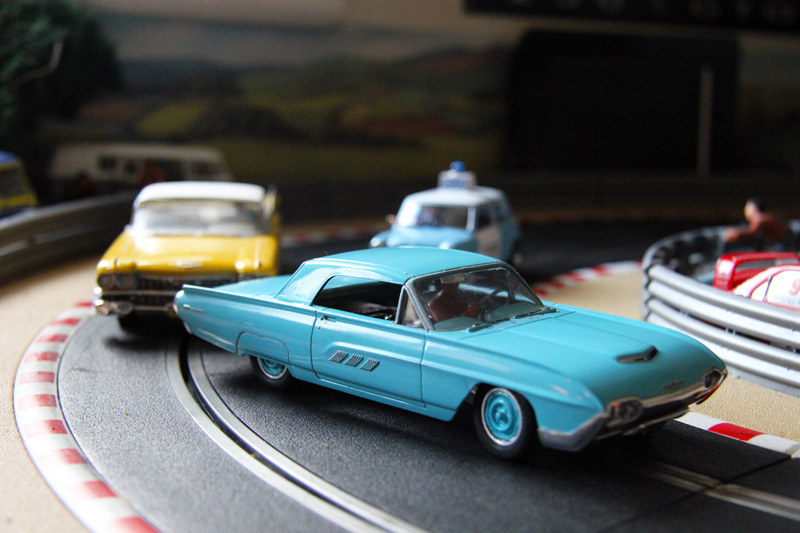 This is how they look from underneath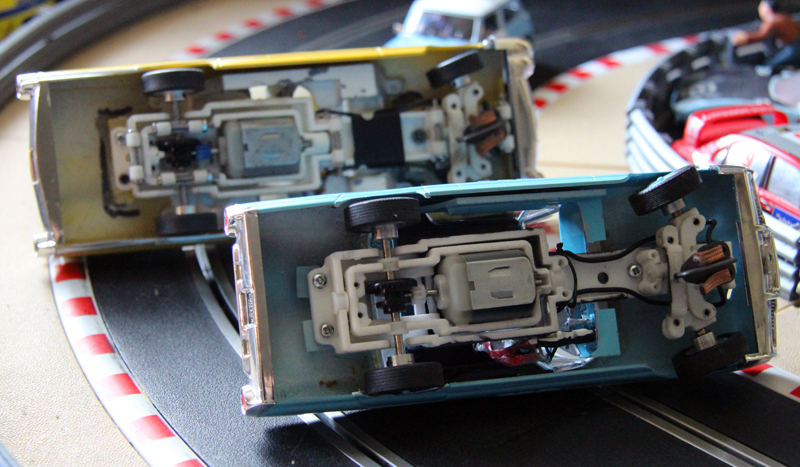 Here's another kit which was adapted by someone with more talent than me, a Carrera Chevy Bel Air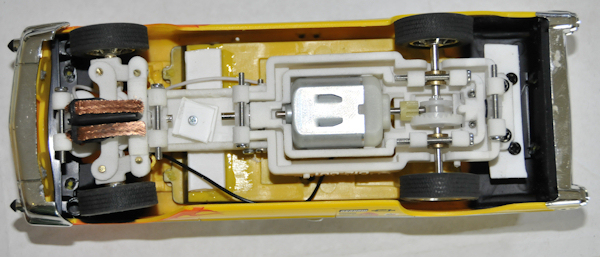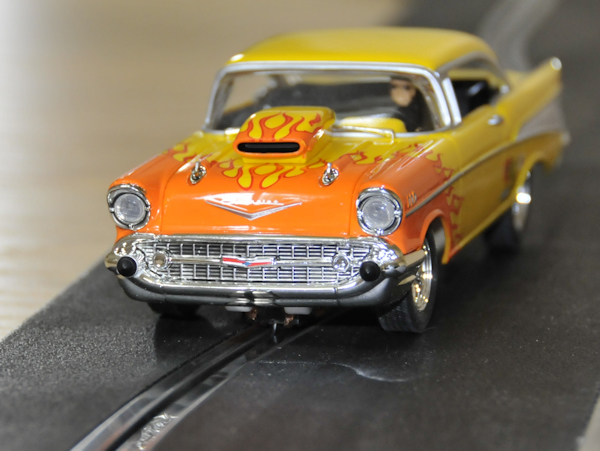 Probably racing for pink slips if I remember my 1950s Americana…