1965 El Dorado Racer
£26.00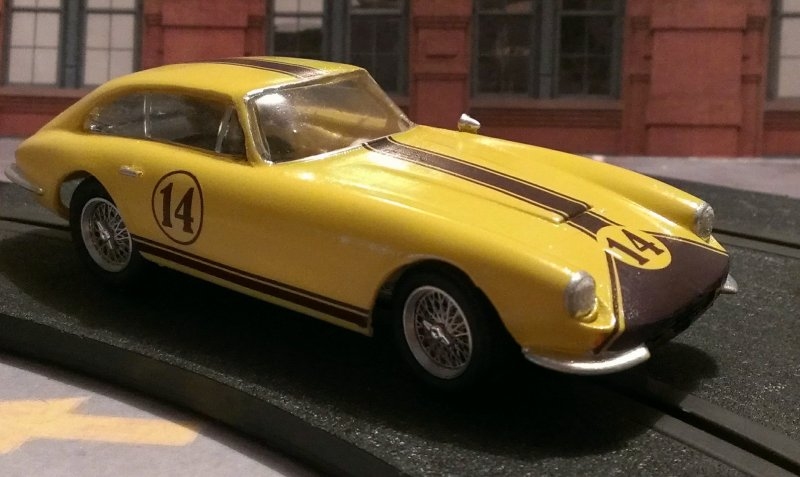 So, what is this exactly?
Ferrari 275?  Jaguar E Type?  Cox Cheetah?  Kellison J6??
No, it's an Intermeccanica Apollo, the bodyshells were styled and built in Italy then shipped to California to be fitted with the Buick V8 engine, the one that was to become the Rover V8 a few years later. The company founders reasoned that while the looks of a Ferrari were very desirable, the fact that a set of carburettors cost more than an entire American V8 engine was uncomfortable for some owners. Wouldn't it be great, they said, if you could get European GT looks and still get it serviced at your local garage for Buick prices? And there was the question of reliability too; European sports cars of the time weren't at their best in the traffic of the West Coast, American cars were made for this kind of punishment. Milt Brown, Ron Plescia, and Ned Davis must have been giddy with excitement at this idea, it couldn't possibly go wrong!
They approached Carrozzeria Intermeccanica in Italy with some sketches of a car that looked like a Ferrari but with E Type proportions, underneath they planned to use the 1961 Buick Special with its sophisticated four link trailing arm suspension which used coil springs instead of the more common leaf springs. Reports of the time compared it favourably with the Corvette and even the much more expensive Aston Martin DB4 and Ferrari.
Sales were steady at 2 cars a month, but the demon of small companies everywhere – cash flow and lack of investors – was soon causing trouble. Production lurched to a new owner in Texas which soon failed and went back to California to a different owner. Sadly the whole operation folded after just 88 cars were made.
In 1967 Disney Studios had contracted Max Balchowsky about preparing two Apollo GTs for their forthcoming film "The Love Bug", he worked with Carey Loftin (as they worked on the Mustang and Charger for Bullitt) to get the cars ready for filming. Balchowsky made several modifications to strengthen the car for its high speed work. You know the final stunt in Bullitt where the Charger crashes and explodes? That was done with Carey Loftin's "tow and release" system where he drove the Mustang towing the Charger then released the cable letting the driverless Charger crash. Exactly the same system was used with the Apollo releasing the VW for one of the racing scenes where Herbie is nudged off the track!
Out of stock
Description
Kit includes:
Resin bodyshell
Vacform windows
Vacform interior
Resin driver's head
Waterslide graphics set
Body mounting screws