The path for toy cars is straightforward as children get older, it goes: simple toy, complicated toy, slot car, radio controlled car, real car.  Often it loops around again which is why this page is read by adults, not children.
If you were driving slot cars in the late '70s and early '80s, your nose would have been pressed against the window of the local model shop watching the Tamiya videos of their racing buggies.  Impossibly beautiful sand dunes, perfect streams of water and no such thing as a flat battery.  Turn up your speakers and watch this, go on – I'll wait here for you.
Wasn't that fabulous?  As a fan of Volkswagens, I loved the Sand Scorcher.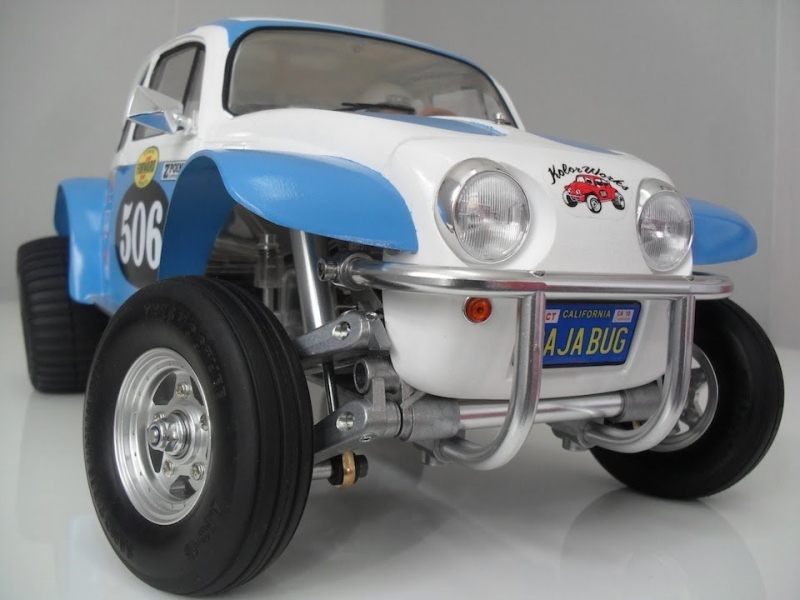 To be honest, it wasn't that great in terms of dynamics; there was no differential so tight turns were a problem, the rear tyres would go bald after a very short time on tarmac and the front end alignment had too many places to wear out.  But what a cracking toy to own.
Tamiya reissued these a few years ago, but what if you want some Sand Scorching action on your slot car track?  Step this way, sir, I think I have something that's just perfect for you.
In the kit you get
Resin bodyshell
Vacform windows
Vacform interior
Resin driver's head
3D Printed wheels
Waterslide graphics set
Bodyshell preparation is here, detail follows below.
The front tyres are Ortmann 37M the rear tyres are Ortmann 23 x 7.5 tyres from RS Slot Racing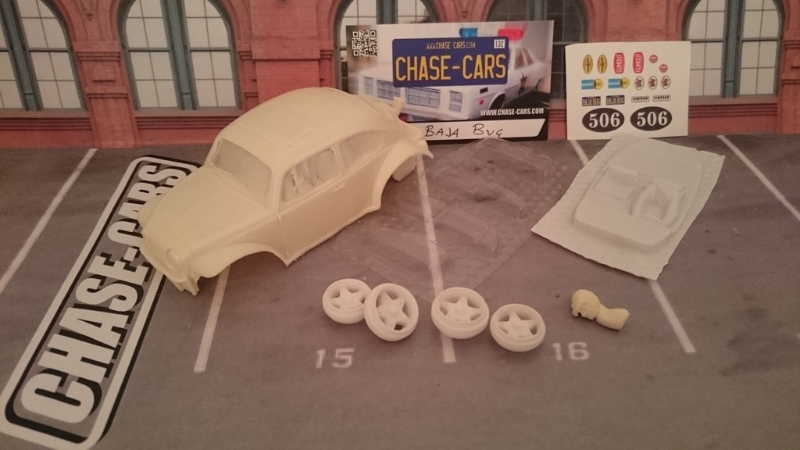 Let's start by cleaning up the casting flash.  Take a sharp scalpel and open up the windows.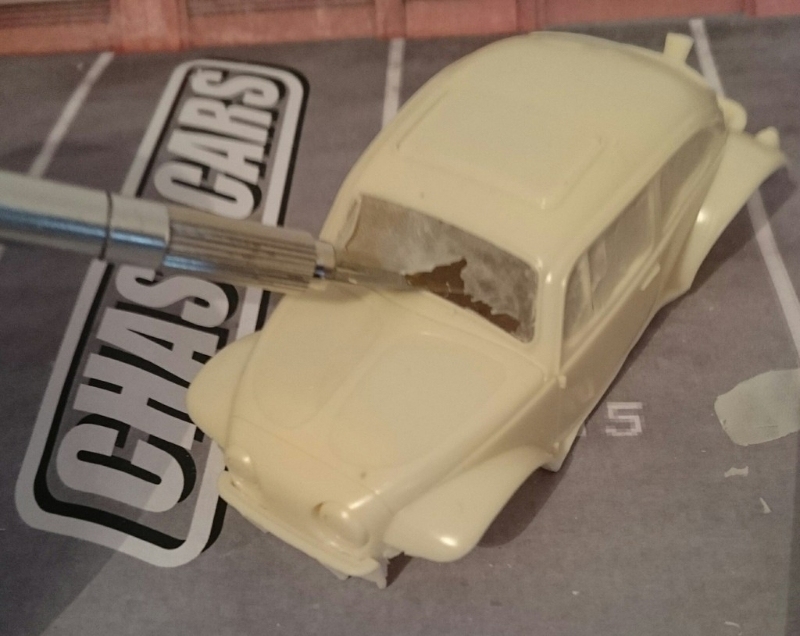 Also clear out the flash around the engine cage.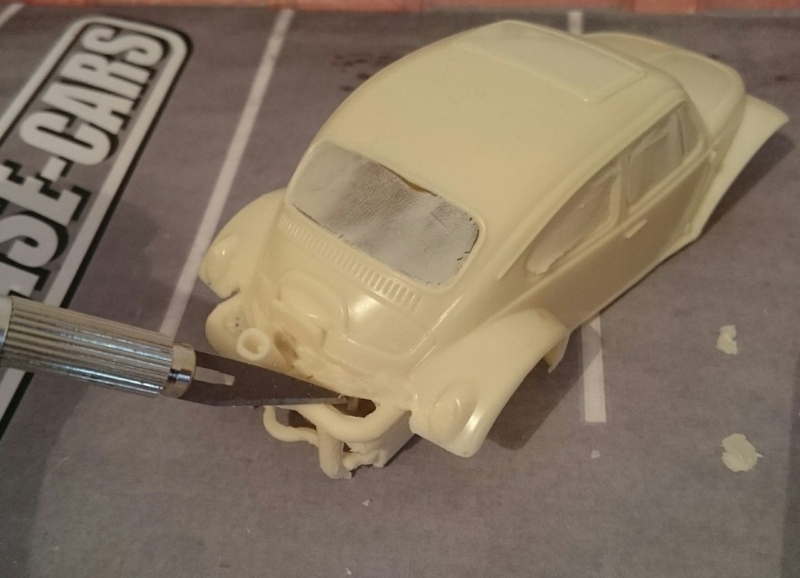 Also clear the flash from between the exhaust manifold.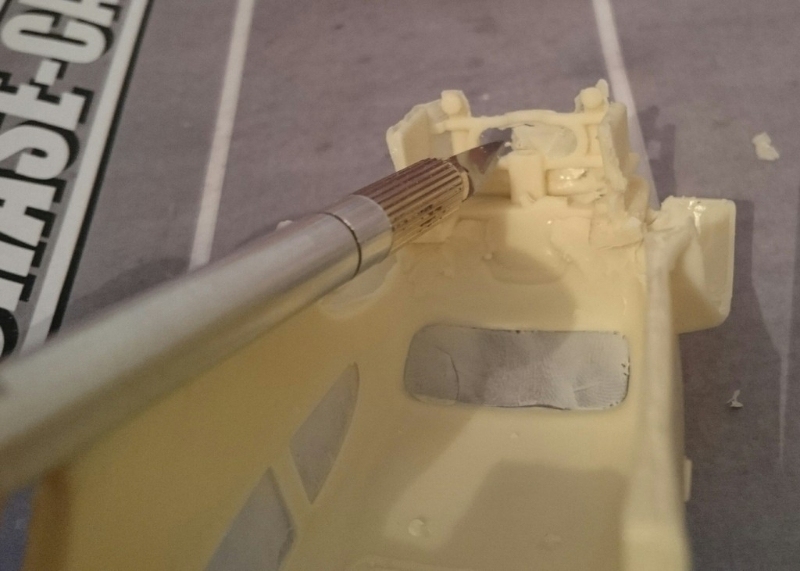 Cut carefully around the wheelarches.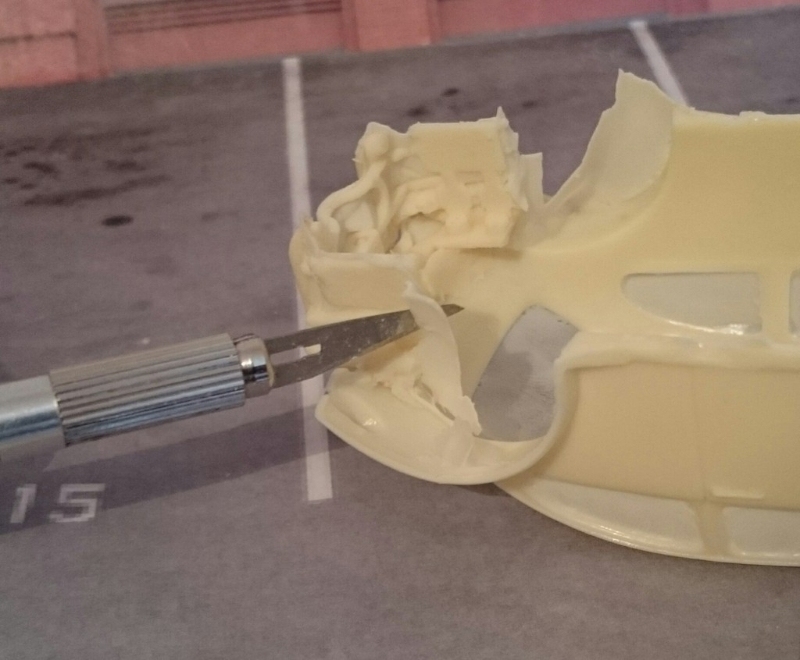 And between the carburettors so it looks like this.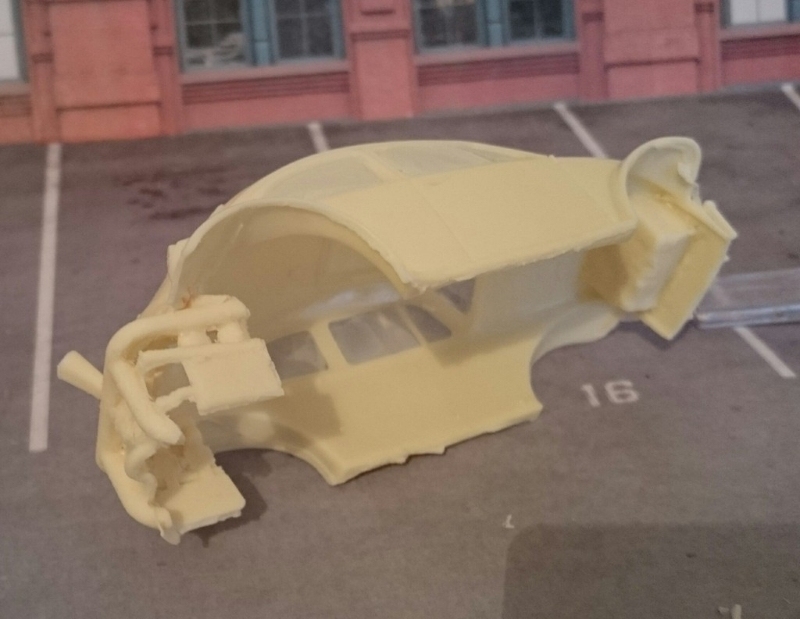 Try it out for size on the chassis, making sure you've got enough clearance everywhere.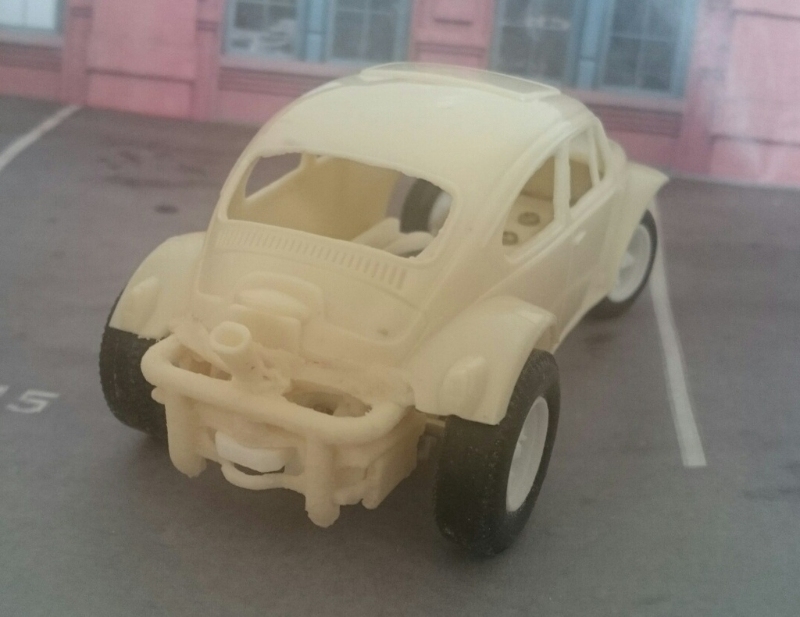 As always with resin parts, wash them in soapy water to get rid of any mould release agents, then leave them them to dry.  Choose your favourite primer and get to it.  The paint I used was bright white, so I chose a white primer from the same paint manufacturer.
I use 600 grit wet & dry paper after the primer coats, then start with the white top coats making sure each coat is fully dry before sanding again.  600 grit between top coats, and usually 3 coats is enough.  Then you can mask off the other parts and put blue paint on top.
Next, cut the waterslide graphics out, they have already been coated with one thin coat of a water based acrylic to help protect them whilst they are applied, however they are very thin and can tear easily. The clear film is continuous and so each decal must be cut carefully from the sheet. Cut with a sharp scissors, craft knife or scalpel but leave a small clear margin around each decal. This will help to prevent any potential solvent ingress when the decals are coated with clear lacquer and will reduce the chance of any ink flaking off.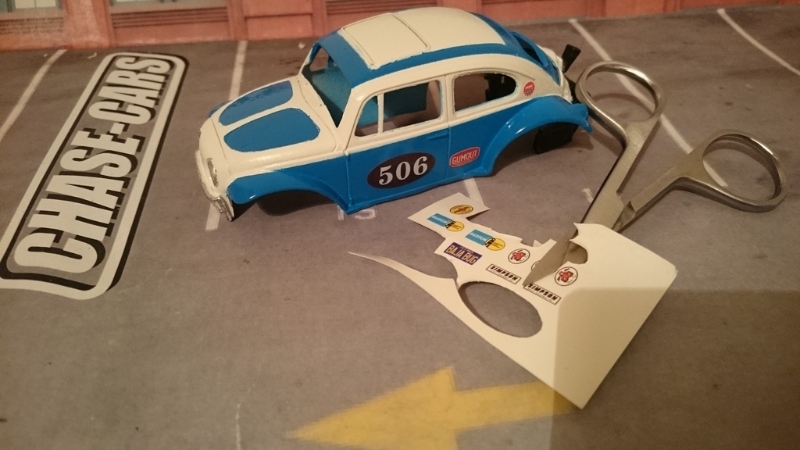 Use a silver paint pen to pick out the chrome, and when everything is in place you can spray on a couple of light coats of clear lacquer.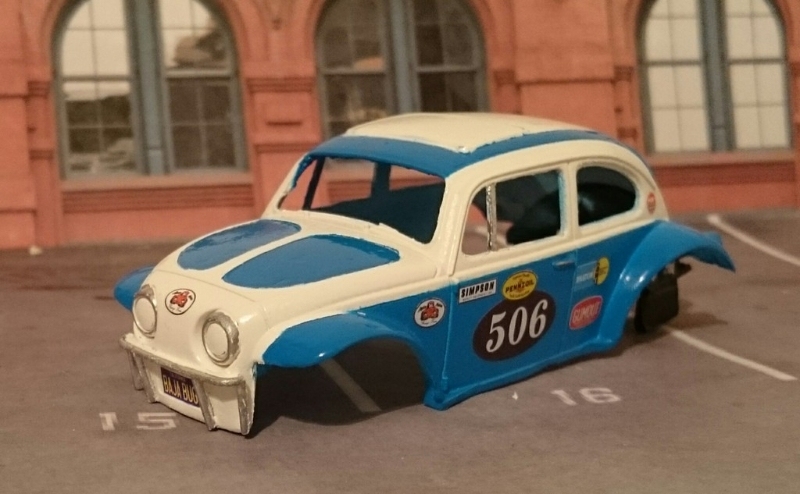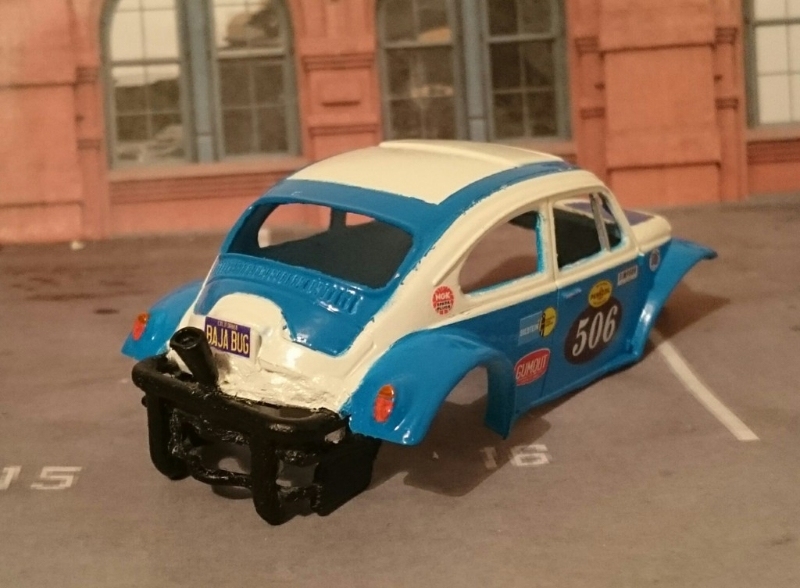 I used grey paint on the interior as I don't want to take the eye away from the external graphics, don't forget to paint the driver too.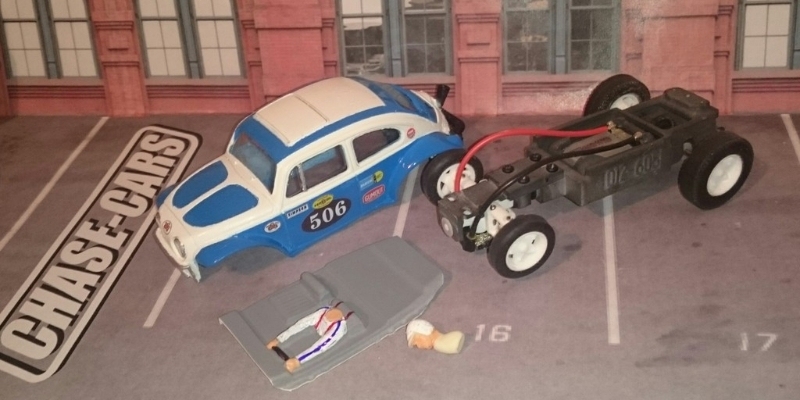 I also painted the chassis black, a few coats of regular matt black works very well.
Carefully cut out the windows, and glue them in place using Canopy Glue so they don't fog up, although that would be authentic for most aircooled VWs.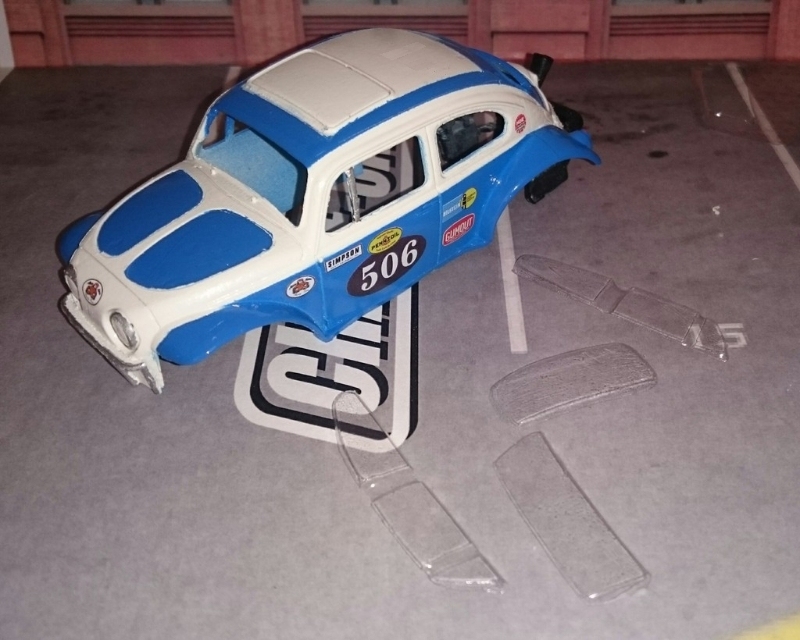 Once the windows have dried, use the same Canopy Glue to hold in the interior.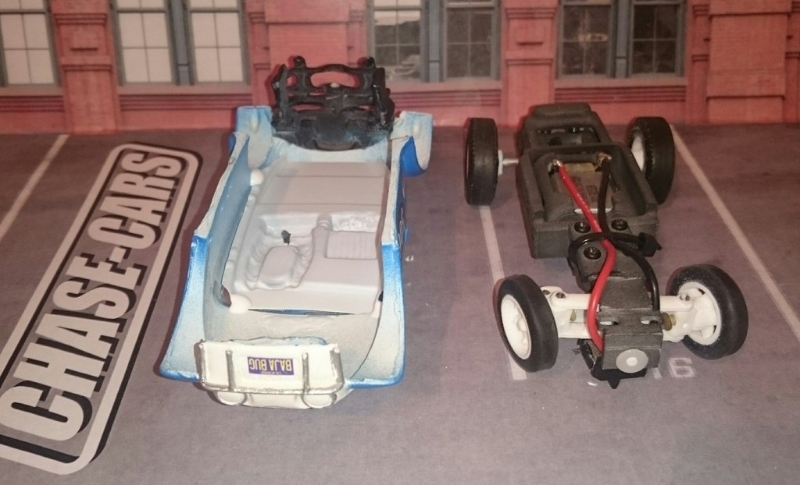 Drill the bodyshell with 2mm holes to accept the mounting screws, and get to the dunes!